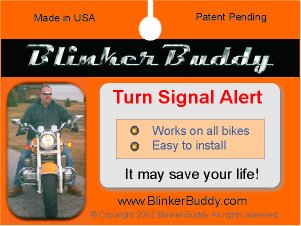 $49.95 plus $5.00 shipping and handling to the continental USA only.
Your complete Blinker Buddy kit includes the device, quick disconnect, zip ties and wire crimps. Complete, detailed instructions are included. Help tips are available online for some makes and models. Installation is simple and easily done on either a stock or custom seat by you or your local service center. Only a 1-1/4"x3-1/2" hole in the bottom of the seat is required. The device is installed through the hole and the foam or seat padding is modified to allow the device to be pushed through it so the device goes through most of the padding but does not come in contact with the underside of the seat covering. A simple two-wire connection completes the installation.
Blinker Buddy will work with a gel pad or some other form of cushion on the seat and the extra padding will very slightly muffle the effect. Blinker Buddy will also work properly with most 4-way flasher setups.
Each unit is precision assembled, tested and has a limited 90 day warranty.
_______________________________________________________________________________________________________________________________________________________
Testimonial
Hello,
As a motorcycle enthusiast, I became frustrated with the lack of a way to keep myself safe & sane when it came to my signals being left on. Blinker Buddy is a Patent Pending device designed to be installed by you or your local service center. The device is easily mounted in your seat and wired to your bike. As soon as the signals on your bike are activated, this device goes to work and alerts you that the blinker system on your bike is active, and reminds you to cancel the signal. It doesn't run on a timer and there is no need to reset it each time you use your signals. It uses the same 12-volt source as the lights for your signals and has a simple 2-wire installation.
Blinker Buddy generates a mild buzzing that you feel in the seat. The vibration alternates, on and off, with the turn signals. You feel every flash of your blinkers and know, positively, if the signal is on or off. No more looking down at the little light. No more thinking that you shut them off. Avoid the chance of being hit by someone who thinks you are turning because you forgot to turn your signal off.
Ride Safe